Outstanding Project Award
The IPA recognizes and honors a project that exemplifies superiority of a pile group, embedded structures and/or embedded walls in meeting the project requirements and public expectations.
2019
Winners
Project:
Construction project of retaining wall adjacent to railway in Kyushu, Japan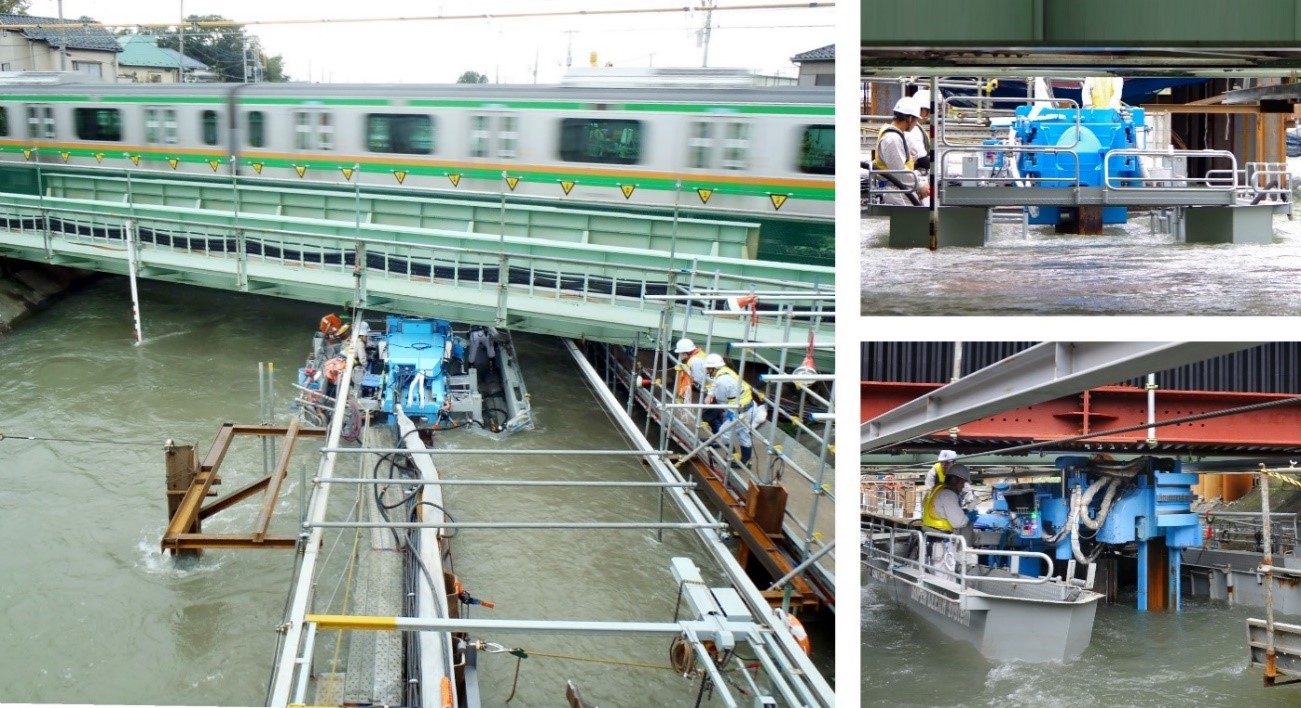 Project team:
Kyushu Railway Company, Japan (Project Owner),
SANKIKENSETSU, INC., Japan (Prime Contractor),
Tonichi Consultant, Japan (Design),
Kyushu Sales Office, GIKEN LTD., Japan (Planning)
Kansai Sales Office, GIKEN SEKO LTD. Japan (Pile Driving Contractor)
The reason for awarding:
This was a very challenging project of installing a series of 1000 mm diameter steel tubular piles in very steep slope. The retaining wall was constructed to create a space for a new railway track. An extensive series of FEM analysis was conducted during the design stage to avoid excess movement of a large apartment building and houses that existed on the hill, which was cut to create the new space. An innovative design of a continuous beam attached to the sequence of tubular piles was adopted to improve the stiffness of the wall. The construction of the wall was executed successfully. The project deserves IPA award as it will be an excellent case study that demonstrates the use of innovative solution to create a new structure in densely populated urban area.
Application Details
Nomination deadline: 15th March 2019, Friday
Awardee
:
An organization or a group of organizations (Project Owner, Design Consultant, General Contractor, Piling Contractor, Machinery and Material Suppliers) that made substantial contributions to the completion of project. The awardee is not necessarily a member of IPA.
Eligibility and Judging Criteria
:
Any project including installation of a group of piles or an embedded wall, completed and in operation or in service at the time of recognition is eligible. The function of the piles or embedded wall may be temporary or permanent. The project may either be small or large in terms of scale or budget as far as the project exemplifies the superiority of a group of piles or embedded wall from a variety of viewpoints including, but not limited to, the maximum use of limited land space, effective use of underground space, reduction of adverse environmental impact, effective reinforcement of aged or historic structures, resiliency of the structure under extreme actions such as earthquakes or Tsunamis.
Nomination:
An individual organization or a group of organizations involved in the project can submit nomination material electronically to the Award Committee (
ipa.award@press-in.org
) no later than the nomination deadline. Nomination material should include a project summary, high quality photographs, publications related to the project (if any) and nomination form. Guidelines for preparing nomination materials may be found in the nomination form.
Download nomination form here.
Award Information:
The Award will be presented at an appropriate IPA event by the IPA President.
The representative organization is the recipient of the Award and will be required to introduce the project at an appropriate IPA event.