IPA Prospectus
IPA Brochure:
PDF
(updated in June 2020)【CLICK HERE】
About International Press-in Association (IPA)
The IPA is the academic organization to explicate the unseen phenomena and mechanism of underground by the Press-in Engineering in close coordination with various technical fields such as geotechnical, environmental, mechanical, construction and instrumentation engineering
.
Name of Association
International Press-in Association, IPA for short
Date of Establishment
16 February , 2007
Board Members
30   ►Organization
Members
(April 2022)
Individual Members    690
Corporate Members   

53

►Admission guidance
Student Members    42
Address
Office in Minato-ku, Tokyo, Japan ►Inquiry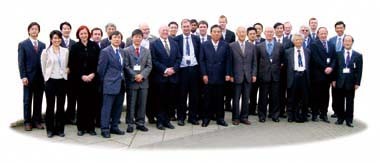 The Members of IPA Establishment at the Cambridge University in 2007
Establishing a worldwide network sharing an academic interest in the Press-in Method
Social contributions following academic development regarding the Press-in Method
Social contributions following human resource developments regarding the Press-in Method
Collection and distribution of technical information

Providing opportunities to publish research and case studies

Research to solve specific technical issues
Conferences / Seminars
International Conference
"The International conference on Press-in Engineering (ICPE)"
(scheduled once in three years from 2018)
   ・"IPA Seminar on Press-in technology" is held several times a year.
(2017: Singapore and Malaysia, 2018: Thailand, Philippines, Vietnam)
・"IPA Press-in Engineering Seminar" has been held once a year in Japan (Tokyo & Kochi) since 2010.
・"IPA International Workshops"
Cambridge (2007), New Orleans (2008), Shanghai (2010), Singapore (2012) and Ho Chi Minh (2014)
Please Click Here:
https://www.press-in.org/en/page/reserch_activities
Publications (After 2018)
2020 "Design and Construction Guideline for Press-in Piling 2020 (the Japanese version)"
    "IPA Newsletters (Volume 4, Issue 1 - Volume 4, Issue 4 2019)"

2019

"Chinese Version of "Press-in retaining structures: a handbook"
"Press-in Piling Case History Volume1, 2019"
"IPA Newsletters (Volume 3, Issue 1 - Volume 3, Issue 4 2018)"

2018

Proceedings of The International conference on Press-in Engineering
IPA Newsletters (Volume 1, Issue 1 - Volume 2, Issue 4 2016-2017)
Other Publications:
https://www.press-in.org/en/publication/index/1
Honorary President, Successive Presidents and Secretaries-General

History
Details:
https://www.press-in.org/en/page/history